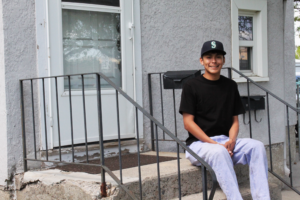 Navigating the twists and turns of life isn't always easy, and not having someone to lead you in the right direction can be even more overwhelming. But for some, having that little push makes it all worthwhile. That is what 20 year old Jasper WalksNice overcame.
Originally from Oregon, Jasper had been in the foster care system until his grandma who lived in Montana adopted him and his two sisters and moved them here. After his grandma passed away, Jasper was unsure of the next steps he was supposed to take in life. He was in between houses, living with his friends or sisters. It wasn't until one of his good friends told him about the youth program at HRDC that he decided it was time to change his life. He wasn't sure what to expect or what the program could help him with, but is very glad he took the leap to do it.
After being approved for the Youth Homeless Demonstration Project (YHDP), Jasper got a job in the weatherization department at HRDC through the Workforce Innovative Opportunity Act. He says this line of work opened up a lot of career opportunities that he is interested in. The Weatherization Director at HRDC District 7 says Jasper has done a great job working with the weatherization crew and adds he is always happy and has a positive attitude. Along with finding a career field, the program also helped him find an apartment, helping him obtain stable housing. Jasper's Case Manager says he came into the program in May of 2022 and has worked incredibly hard while in YHDP to set himself up for the future. "Since meeting Jasper, I have continuously been inspired by his drive, passion, respectful and gentle nature, and his overall character."  She also adds that Jasper was able to complete his Hi-SET while working full time and maintaining his housing situation. "Instead of letting the hand he was dealt be a barrier, he has used it to motivate himself to where he is now."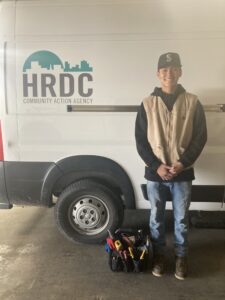 Jasper finished his Hi-SET in March 2023, which was one of his main goals he wanted to accomplish while in the program. One of his next goals is to save up for a car and is currently studying to get his drivers license. He is set to attend the HiSET graduation ceremony at the Lincoln Education Center on May 24. When asked what his favorite part of the program was, he said he enjoys the common courtesy from staff in the agency. He adds that people are always willing to help when needed and is overall a healthy community to surround himself with. They helped him set goals and keep them in mind so they do not slip away. Jasper also mentions that one of his main goals while in the program was to become more self-sufficient and to do things on his own. "I'm glad to say that I am self-sufficient now. I go to work every day, it feels good to be busy, I like being busy." The Youth Program Manager says she is so proud of how far he has come because a year really isn't that long of time to accomplish this many things. She adds that Jasper's hard work while in the program has truly paid off. 
HRDC Program Participated In:
Youth Homeless Demonstration Project (YHDP)