Together Towards Tomorrow
October 20-22, 2022 attend the Together Towards Tomorrow conference. Registration is now open, click here for more information. Register now for a chance to win a 1-year membership!
Child Care Provider Retention/Incentive Payment
If you have any questions, please contact the Early Childhood Project at 406-404-1624, ecp@montana.edu, or visit www.mtecp.org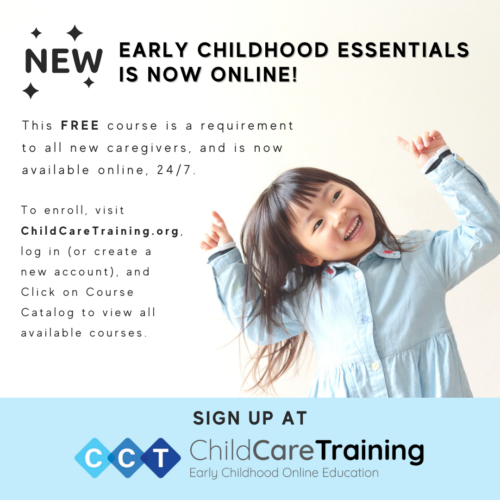 I need help paying for Child Care.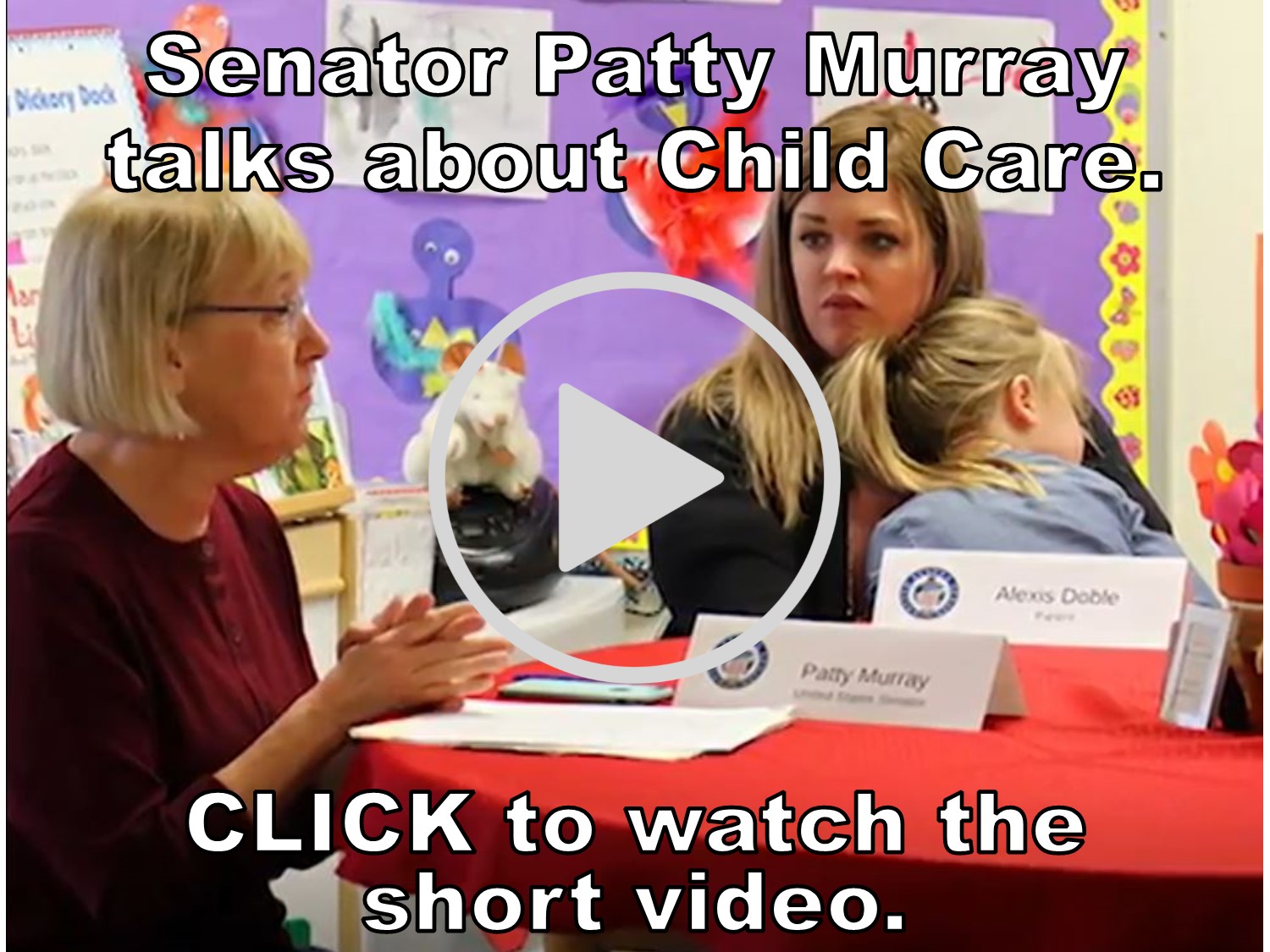 Montana families are paying just over $9,000 a year to have an infant attend a full time care center. For low-income, working single parents this could mean nearly 44% of their income is spent on child care.
I need child care, but can't afford it. What do I do?
HRDC offers the State of Montana's Best Beginnings scholarship for Big Horn, Carbon, Carter, Custer, Fallon, Golden Valley, Musselshell, Powder River, Rosebud, Stillwater, Sweet Grass, Treasure, Wheatland, and Yellowstone Counties. You can fill out the application online here.
You can also download the application or pick it up at the HRDC office in Billings or Hardin, or call either location and request an application be mailed to you.
Who is eligible?
Recipients of the scholarship are working low-income families, working care takers, TANF recipients, disabled parents, foster or guardianship families, and parents in high school, college or pursuing a GED may apply for the Best Beginnings Scholarship. Please click here for more information about eligibility.
How many hours must I work in order to qualify as working low-income?
Parents or guardians must be participating in the following eligible activities:
Two parent families must work at least 120 hours per month;
Single parent families must work at least 60 hours per month;
Single parent families do not have to work while they attend school/training full time;
Single parent families who are attending school/training part-time must work 40 hours; or
Teen parents must be attending high school or a high school equivalency program.
Does the work requirement pertain to foster or guardianship families?
Yes. We recommend contacting your Child Protection Specialist or your OPA case manager if you are receiving child-only TANF assistance.
For additional information about eligibility, click here..
What portion will I pay?
Families are solely responsible for making co-payments to their child care provider plus any fees or charges that may exceed the district child care provider rates. Click here for the sliding scale and co-payment calculator.
I need help finding a child care provider. Who can I contact?
HRDC has a free service that helps you find quality child care that best fits your needs. Click here to go to our Child Care Referral Page.
Are there restrictions on where I take my child for care?
Children on the Best Beginnings Scholarship must attend a licensed child care center, registered group or family child care home, or certified Family/Friend/Neighbor (FFN) formerly known as legally certified child care provider.
I'm not sure if the child care provider I've selected qualifies for the program. Who can I ask?
Contact one of our Case Managers or our Child Care Referral Specialist by calling (406) 247-4700.
For more information
Call (406) 247-4700 (Billings) / (406) 665-2523 (Hardin) or Email: childcare@hrdc7.org
The American Rescue Plan Act (ARPA) Child Care Stabilization Grants are now available for providers to help with rent, mortgage, utilities, payroll, benefits, health & safety training, and much more. Visit childcare.mt.gov to learn more.
---
Link to forms and regulation information:
You will find all the regulations and forms to become a licensed or registered child care provider at the Department of Public Health and Human Services, Child Care Licensing website. Check it out at: https://dphhs.mt.gov/ecfsd/childcare/childcarelicensing/
---
Child Care's Provider Services Department provides help and support for:
Licensed and new child care centers, family & group homes, and Family/Friend/Neighbors in Big Horn, Carbon, Carter, Custer, Fallon, Golden Valley, Musselshell, Powder River, Rosebud, Stillwater, Sweet Grass, Treasure, Wheatland, and Yellowstone Counties.
What kind of support is available to child care providers?
HRDC provides oversight and resources to ensure providers are given the tools they need to remain compliant with state regulations and deliver a safe, affordable and quality service. In addition to trainings we offer:
Tips and resources to improve your program; and recruitment, retention and motivation of staff
Ideas for low cost marketing, daily schedules and transitions, and how to operate a safe and healthy program
How to implement emergency policies and procedures including medication administration and managing infectious disease
Resources to provide developmentally appropriate care for infants, toddlers and preschoolers
State and National accreditation, standards, and quality rating and improvement systems
In Home Provider Toolkit This is a great for home-based businesses, and useful to those starting up and/or needing support.
What types of services are offered?
Maintain licensing requirements
Technical assistance
Child Care Collaboration

Quarterly meeting for child care providers, CCR&R staff, and Child Care Licensors. Come and ask questions or hear about current changes or updates.
Collaboration Notes for 06.14.2022

Professional Development Training in:

Observation, Documentation, & Assessment
Program Management
Family & Community Partnerships
Environmental Design
Child Growth & Development
Health & Well-Being
Professionalism
Curriculum
Diversity
Child Guidance

Evidence Based Best Practices

For young children with special needs and their parents and providers
What services are available to new providers?
Program Management Essentials and Early Childhood Essentials
Assistance with selecting classes
Technical assistance for policies, procedures, contracts and record maintenance
360 Support
Fingerprinting
How do I find training?
There are a number of statewide training opportunities for Early Childhood Providers. A resource library is also available for your use.
Childcaretraining.org offers online training opportunities. Visit their catalog here for your professional development needs.
Trainings can be found on The Early Childhood Project (ECP) website by searching the Professional Development Calendar. To view our NEW training catalog click here to find classes, orientation requirements, First/AID/CPR and more.

Interested in applying for the next Certified Montana Infant Toddler Caregiver Course or the Certified Montana Preschool Teacher Education Course? Click here to add yourself to the waiting list by entering your contact information. When the next courses are scheduled and the application link is live you will receive an email with more details on completing the application process.

Online Registration for all courses is required and payment through the Early Childhood Project. You will need to sign in or create an ECP account to complete online registration.
Here are some community resources you may need to contact if you need training immediately:
Billings Clinic- This American Heart Association Heartsaver courses are for anyone with limited or no medical training who needs a course completion card in first aid and/or CPR and AED to meet job, regulatory or other requirements. This course covers adult, infant and child CPR. To register, you may do it online, call 406-255-8440 or 1-800-252-1246.
American Medical Response- AMR offers American Red Cross certification and training in Adult, Child CPR, First Aid and AED training. Please contact Kim Hopkins at AMR: 406-259-9601 (She has flexibility in hours and can discuss where trainings can take place).
HRDC – We are working to bring you a new Hybrid Red Cross training which will include an Online learning portion, coupled with an in-person skills assessment. You will register and pay HRDC, take the online portion and pass, then schedule a skills test. Watch the website (www.hrdc7.org) for UPDATES regarding this transition.
If you are a provider and are looking for information about how to apply to the Practitioner Registry, please click here.
Montana Early Childhood Project: The Montana Career Path
What does the Child Care Referral Specialist do for Child Care Providers?
The Referral Specialist can update provider rates.
The Referral Specialist coordinates the Child Care Referral Program.
How do I update my provider rates?
Click to view the current Market Rates.
To change your rates please fill out the Provider Rate Form and return it to us by:
Email: childcare@hrdc7.org
Fax: (406) 869-2585
Mail: PO Box 2016 Billings, MT 59103 – Attention: Danielle
Drop it by our office at 7 N 31st St, Billings, MT
What is the Child Care Referral Program?
The Child Care Referral Program is a free advertising tool for your business. The Referral Specialist will work with you and your facility to provide the most up-to-date information to families seeking child care.
Wanting to utilize the Referral Program? Click here to fill out the form.
To make changes to your vacancies click here.
For more information
Call (406) 247-4700 or Email Child Care Department
Best Beginnings Family/Friend/Neighbor (FFN)
What is a Family/Friend/Neighbor (FFN)?
A Family/Friend/Neighbor is a special certification for a friend or family member that cares for up to two children from different families or all the children in one sibling group. The family that is receiving care must be eligible for the Best Beginnings Child Care Scholarship. Click here for the FFN page on dphhs.mt.gov
How do I apply to become a Family/Friend/Neighbor (FFN)?
Application requirements include:
Family Association Form
Forms required for all adults living in the household 18 years and older (fees vary)
Statement of Health Form
State of MT Release of Information
FBI Release of Information form for Fingerprint
Health and Safety Checklist
Medication Administration Attestation
Immunization Certification Form
Tax ID Form – W9
Training Requirements
Health & Safety Overview
FFN Fundamentals
CPR/First Aid Certification (required for non-relative care)
Contact Child Care Licensing if you have any questions about the FFN Program:
PO Box 4210
Helena MT 59620-4210
Phone: (406) 444-2012
Fax : (406) 444-2750 or Email: childcarelicensing@mt.gov

How do I attend FFN Training?
Please click here to be directed to training information on the Montana DPHHS website.
I need help finding Child Care.
Our Referral Specialist helps you find quality child care that best fits your needs. Whether your hours of needed care are limited or you are looking for specific environments, we connect families to licensed or registered child care providers to provide a quality experience for everyone. We provide referrals for families in Big Horn, Carbon, Carter, Custer, Fallon, Golden Valley, Musselshell, Powder River, Rosebud, Stillwater, Sweet Grass, Treasure, Wheatland and Yellowstone counties.
Stop by our office or call (406) 247-4700 to get a child care need form.
Create an account to generate your own list by clicking here.
Click here to complete an online child care need form.
Click here to print out a form and return it to us by:

Email: childcare@hrdc7.org
Fax: (406) 869-2585
Mail: PO Box 2016 Billings, MT 59103 – Attention: Child Care Referral Specialist
Drop it by our office at 7 N 31st St, Billings, MT
If you are a provider and need to update information with our Referral Specialist click here.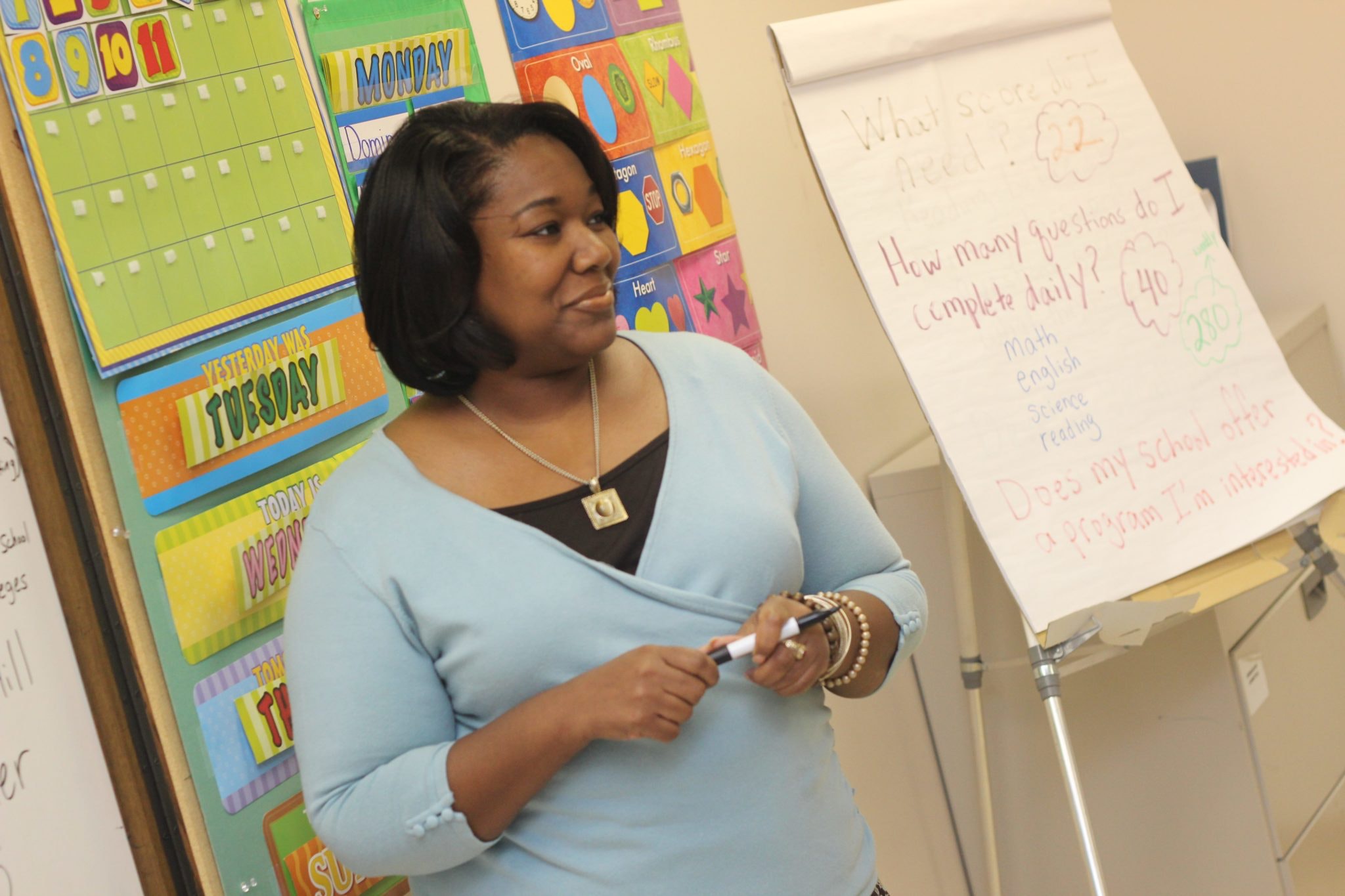 Region 1
The Nurturing Center
146 Third Ave W Kalispell MT, 59901 (406) 756-1414, 800-204-0644, Fax: (406) 756-1410
nurturingcenter.org
Region 2
Child Care Resources
105 East Pine Street Lower Level – PO Box 7038 Missoula MT, 59807 (406) 728-6446, 800-728-6446, Fax: (406) 549-1189
childcareresources.org
Region 3
Butte 4 C's
101 East Broadway Butte MT, 59701 (406) 723-4019, 800-794-4061, Fax: (406) 723-6982
butte4-cs.org
Region 4
Child Care Connections
1143 Stoneridge Dr Bozeman MT, 59718 (406) 587-7786, 800-962-0418, Fax: (406) 587-1682
cccmontana.org
Region 5
Family Connections
202 2nd Ave S, Suite 201 Great Falls MT, 59405 (406) 761-6010, 800-696-4503, Fax: (406) 453-8976
FamilyConnectionsMT.org
Region 6
Family Connections
2229 5th Ave Havre MT, 59501 (406) 265-6743, 800-640-6743, Fax: (406) 265-1312
FamilyConnectionsMT.org
Region 7
HRDC District 7
7 North 31st Street – PO Box 2016 Billings MT, 59103 (406) 247-4732, 800-443-1411, Fax: (406) 248-2943
hrdc7.org
In an effort to reduce the costs of child care while ensuring children receive healthy and nutritious meals, eligible child care providers are given cash reimbursement for serving meals to enrolled participants that meet Federal nutritional guidelines, outlined in the CACFP meal pattern.
Do I apply for CACFP through HRDC?
Yes. HRDC administers the Child and Adult Care Food Program (CACFP) for the Montana Department of Health and Human Services
What counties do you serve?
Big Horn, Carbon, Custer, Fallon, Fergus, Musselshell, Prairie, Rosebud, Stillwater, Sweet Grass, Wheatland and Yellowstone.
How many meals are eligible for reimbursement?
Participating providers may be approved to claim up to two meals and one snack, or two snacks and one meal, per day, per child.
What trainings are required as a CACFP participant?
Participants are required to participate in two mandatory trainings annually.
2 hour regulations training includes a review of CACFP requirements, recordkeeping, payments and civil rights.
2 hour nutrition training includes CACFP meal patterns, menus, recipes, and food safety.
Do you conduct site visits?
Yes. We will visit each CACFP participant's site a minimum of three times a year.
How do I enroll in the CACFP?
Family and Group Home providers should call (406) 247-4700 to apply. Child Care Centers must apply through the state department or call 888-307-9333. Facilities must be licensed to qualify for CACFP.
For more information
Call (406) 247-4700 or Email childcare@hrdc7.org
CACFP is provided by the USDA and administered through the Montana Department of Health and Human Services CACFP program. In accordance with Federal law and U.S. Department of Agriculture policy, this institution is prohibited from discriminating on the basis of race, color, national origin, sex, age, or disability. USDA is an equal opportunity employer.
USDA Nondiscrimination Statement
For all other FNS nutrition assistance programs, State or local agencies, and their subrecipients, must post the following Nondiscrimination Statement:
In accordance with Federal civil rights law and U.S. Department of Agriculture (USDA) civil rights regulations and policies, the USDA, its Agencies, offices, and employees, and institutions participating in or administering USDA programs are prohibited from discriminating based on race, color, national origin, sex, disability, age, or reprisal or retaliation for prior civil rights activity in any program or activity conducted or funded by USDA.
Persons with disabilities who require alternative means of communication for program information (e.g. Braille, large print, audiotape, American Sign Language, etc.), should contact the Agency (State or local) where they applied for benefits. Individuals who are deaf, hard of hearing or have speech disabilities may contact USDA through the Federal Relay Service at (800) 877-8339. Additionally, program information may be made available in languages other than English.
To file a program complaint of discrimination, complete the USDA Program Discrimination Complaint Form, (AD-3027) found online at: http://www.ascr.usda.gov/complaint_filing_cust.html, and at any USDA office, or write a letter addressed to USDA and provide in the letter all of the information requested in the form. To request a copy of the complaint form, call (866) 632-9992. Submit your completed form or letter to USDA by:
Mail: U.S. Department of Agriculture
Office of the Assistant Secretary for Civil Rights
1400 Independence Avenue, SW Washington, D.C. 20250-9410;
Fax: (202) 690-7442; or
Email: program.intake@usda.gov
This institution is an equal opportunity provider.
Federal Relay Service poster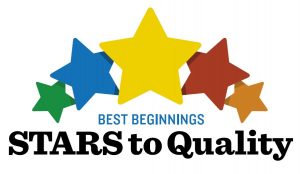 What is STARS?

The Best Beginnings STARS to Quality Program is a voluntary quality rating and improvement system that aligns quality indicators with support and incentives for early childhood programs and early childhood professionals. The Early Childhood Services Bureau has enjoyed watching the program grow and develop with the input from the various stakeholders, and has listened carefully to early childhood professionals, parents, and national experts to provide a strong program, desired by many.
STARS has several components:
Workforce Development
Quality Rating and Improvement System (QRIS)
Infrastructure to administer the programs, provide training , coaching, and technical assistance, and to validate the STARS system
How do I apply to be a STARS Provider?
Programs may apply for Best Beginnings STARS to Quality at any time on the Early Childhood Project website. To apply, you must log in as an organization, go to the STARS tab, and click "Apply for STARS". If your application is accepted, you will be notified and sent a STARS to Quality agreement and W-9 which must be returned in order to be accepted into STARS to Quality. Click the link below to apply. If you need assistance, contact HRDC Provider Services, watch the video tutorials, or click here for printable instructions.
For more information about Montana STARS to quality, visit the website: Best Beginnings STARS to Quality
What changes will I see as my child grows?
How your child plays, learns, speaks, acts, and moves offers important clues about your child's development. Developmental milestones are things most children can do by a certain age.
Click here to connect to the CDC website sharing more information about each stage.
Parenting Montana provides easy-to-use tools to support your child's success from birth through the teen years. Click here to learn more.
Click here to learn more about speech & language therapy resources for children.
Do you, a friend or a family member need assistance?