Resources
COVID-19 Resources
---
If you are a child care provider looking for updates Click Here.
Community Resources
The following includes a list of community resources.   While the list is not inclusive, these are the resources that are most commonly requested.  If you do not see what you are searching for use the www.montana211.org link, or click the request support button on our website.  Complete the form and someone will help you.
Unemployment
Montana Works has everything you need to know about filing for unemployment benefits and other related matters.  You can also find an instructional video.
Housing
CDC Director Dr. Rochelle Walensky has signed an extension to the eviction moratorium further preventing the eviction of tenants who are unable to make rental payments. The moratorium that was scheduled to expire on March 31, 2021 is now extended through June 30, 2021.
Click Here to go to the HUD Coronavirus Resources page for more information.
Montana Emergency Rental Assistance Program
Montana Housing is offering rent and utility assistance to Montanans financially impacted by COVID-19.  Learn more at housing.mt.gov.
Resources to access if you are facing eviction:
Anyone in need of rental assistance or facing eviction is encouraged to work with their landlord immediately.  Work together to avoid eviction and loss of housing. If you or someone you know is facing eviction, there are two primary resources you can access.
http://www.montanafairhousing.org
https://www.montanalawhelp.org/issues/housing
The later URL is administered by Montana Legal Services (mtlsa.org).  At this time,  Montana Legal Services is working with the state of Montana to promote ways to help Montanans with their housing/eviction rights and legal counsel.  Unlike more normal times, there are NO income limits to qualify for this service.  It is NOT restricted to low-income households.
Energy
HRDC offers LIEAP and Energy Share to help with energy bills.  Go to our Energy Assistance pages for more information.
Diapers
The Family Promise Yellowstone Valley Diaper Bank will be available Tuesdays from 4pm-6pm for pull up services at the FPYV Day Center located at 10 South 26th Street in Billings Downtown. It will also be availa

ble on Fridays from 10am-12pm.  If you are unable to leave to come to pick up sites please call Family Promise to schedule deliveries.  These sites and times are for pick-ups and diaper donation drop offs.  If you have any questions feel free to contact our office at 406-294-7432.
Mental Health
The Montana Crisis Recovery hotline is funded and available for at least the next nine months. Montanans in need of crisis counseling can call 1-877-503-0833 to receive free and confidential counseling services from trained crisis counselors Monday through Friday from 10 a.m. to 10 p.m.

The

Crisis Text Line

is available 24/7 by texting MT to 741 741; the Montana Suicide Prevention Lifeline is available 24/7 at 800-273-TALK (8255); the Warmline is available Monday to Friday 8 a.m. to 9 p.m. and Saturday and Sunday noon to 9 p.m. at 877-688-3377; and information about Thrive by Waypoint Health, an online cognitive behavioral therapy for those actively working to manage anxiety and stress, is available at

https://thriveformontana.com/

.

Montana Red Cross has launched a Virtual Family Assistance Center to support families struggling with loss and grief due to the ongoing coronavirus pandemic.  Individuals may go to redcross.org/get-help to access a support hub with special virtual programs, information, referrals and services to support families in need. People without internet access may call 833-492-0094 for help.
Southern California Sunrise Recovery Center has a resource page on managing mental health during COVID-19 that covers common issues people are dealing with, tips for reducing stress and anxiety, and how to get help for these issues which you can see here, https://socalsunrisemh.com/managing-mental-health-during-covid-19/
National Alliance of Mental Illness (NAMI) has this helpful Resource and Information Guide. (Updated June 2020)
Office of Public Assistance
 OPA's offices across the state remain closed to the public.  At this time it is not known when offices will reopen to the public.  In order to access our services clients are asked to utilize the following options: Self Service Portal:  apply.mt.gov
At the Self Service Portal one can:  Apply, Check Benefits, View Notices, Report Changes or Upload Documents.  If an individual does not have an account (Check My Benefit), they need only to follow the steps to set up their own account at this site.  Email:  hhshcsopayellowstone@mt.gov
Helpline:  1-888-706-1535
Fax:  1-877-418-4533
Mail:  HCSD/OPA
P O Box 202925
Helena, MT  59620
Department of Public Health and Human Resources (DPHHS)
Montana 211
Montana 2-1-1 provides information and connects people to resources for non-emergency needs.
Call (2-1-1)
Transportation
Food
For the most updated information on food assistance go to:
Yellowstone County:
Billings School District 2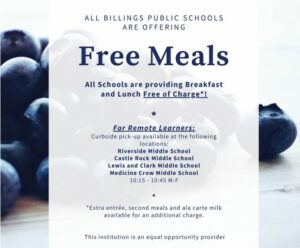 STUDENTS DO NOT NEED TO BE PRESENT TO RECEIVE MEALS – NAMES AND HOME SCHOOL OF STUDENT MUST BE PROVIDED AT TIME OF PICK UP.
Questions? – Please call 406-281-5878
Laurel Schools


Laurel Public Schools Food and Nutrition Program will continue to provide meals to students attending classes at school/on-site and for remote/offsite learners through a Grab-n-Go program.
Laurel Public Schools will continue to offer Grab-n-Go Breakfast and Lunch meals to students on-site.
Grab-n-Go meals will be available at curbside for Online/Offsite students.
Meals on Wheels


Agency: Adult Resource Alliance of Yellowstone County
A hot nutritious mid-day meal delivered by volunteers Monday through Friday to homebound seniors 60 and older.  A donation of $4.00 per meal is recommended but will not be denied if unable to contribute.  Meals are available in Billings, Lockwood, Laurel and Worden area.
Business Line : 406-259-9666
Phone 1 : 406-259-9666 (Billings MOW)
Phone 2 : 406-256-6413 (South Park Senior Center)
Phone 4 : 406-628-7571 (Laurel)
Phone 5 : 406-967-6535 (Worden)
Website: https://www.allianceyc.org/programs/meals-on-wheels/
Emergency Food
Gathers food and other essentials to meet the needs of the under privileged in our community.
Provides food to various client programs at no cost to the agencies or to their individual clients while assuming the leadership role in feeding the hungry and delivering quality food and other products.
Business Line : 406-259-2856
Fax : 406-259-9847
Website: http://billingsfoodbank.com/
Senior nutrition program
The Billings Food Bank provides nutritional food boxes for low income seniors that are struggling with meeting their basic food requirements.
Business Line : 406-259-2856
Fax : 406-259-9847
Website: http://billingsfoodbank.com/services/senior-program/
Family Service works to prevent hunger and homelessness in Yellowstone County by providing food boxes, rent assistance, utilities, deposit assistance, clothing and other household items.
Business Line : 406-259-2269
Fax : 406-259-7940
Website: https://billingsfamilyservice.org
Hunger prevention – emergency food boxes
Provides a 14 day supply of food for those experiencing hunger.
Business Line : 406-259-2269
Fax : 406-259-7940
Website: https://billingsfamilyservice.org//find-help/food
Senior commodity food program
This valuable program works to improve the health of low-income elderly persons by supplementing diets with nutritious USDA food. There are no fees or costs associated with the program.
Business Line : 406-259-2269
Website: https://billingsfamilyservice.org//find-help/food
The Montana Rescue Mission Women's and Children's Shelter serves single women and women with children. Assistance is also provided to intact families. A variety of programs is offered to help make the stay productive by providing vital tools to overcome the causes of homelessness. Parenting classes, life skills, anger management, nutrition and food preparation, conflict resolution, addiction counseling, and spiritual development are offered. Chapel services and counseling are available. Meals are served and laundry facilities are available to residents.
To prevent the spread of COVID-19 and protect our guests and the community, our Mission Diner at the Men's Shelter is only open to shelter guests until further notice.  If you are in need of food, the Billings Food Bank is providing limited distributions. We will post updates on other food distribution sites as able.
Apply in person Monday-Friday from 9:00 a.m.-3:00 p.m.
Business Line: 406-259-3105
Website:https://montanarescuemission.org
Salvation Army – Billings

The main focus is to reach out to the homeless of Yellowstone County by helping with a spectrum of basic needs:  food, shelter, transportation, hygiene, obtaining employment, obtaining housing, and spiritual comfort. Disaster response is very important and often among the first on the scene. Visit our social service office during walk-in hours if you are homeless or in crisis.
Business Line : 406-245-4659
Fax : 406-245-0854
Website:http://billings.salvationarmy.org

Veteran's Meat Locker

The Veterans Meat Locker provides free professionally processed wild game for ONLY Veterans and ALL Veterans qualify with proof of service.  No legitimate veteran regardless of the branch or service record will be turned away.
See Facebook page for upcoming events and information
Business Line: 406-860-9683
Website: Facebook https://www.facebook.com/vetmeatlocker/

Community Hope, Inc.
Food Pantry is limited to Laurel and surrounding communities. Rent and utility assistance limited to Laurel, gently used clothing and household items to anyone in need ($1.50 per bag). Open cooler with limited food items to anyone. Serves west of 73rd to Park City. Outside service area are on a case by case basis. It is important to verify where you live.
Business Line: 406-628-7281
Add'l Phone: 406-628-7381
Carbon County
Joliet Food Pantry

Provides food to local community that is in need of a helping hand.
Website: Food Pantries Carbon County Website

BareTooth Cupboards

Anyone residing in Carbon County, and in need, has access to the food bank twice each month.  Packaged goods such as cereal and pasta, and canned soup, fruit and vegetables are always on hand.  Hamburger, bread, eggs and dairy products are always on hand.
17th E 11th St, Red Lodge, MT 59068
Business Line: 406-446-1255

Bridger Community Food Bank
Anyone in need of food security.
Free groceries – donations accepted.
206 N D St, Bridger, MT 59041 (Old Furniture Factory)
Business Line: 406-662-1060
Any high school student who is food insecure.
Meal pantry for Red Lodge High School students.
800 Chambers N, Red Lodge, MT 59068
Business Line:  406-446-1903
Big Horn County
For the health and safety of our community we have updated several policies regarding services, while trying to maintain the highest standards. We hope these measures will protect the well-being of our customers and volunteers.
Our Facebook page will offer the most up to date information. If you have any questions, please contact us on messenger or at 665-2997. In the mean time, please do your best to respect the following changes during this time:
-Extended hours: OPEN Monday through Friday 10am-5pm through March
-Our waiting room is now closed, so we are a drive through ONLY. We will come to your car, so please honk once if we don't see you pull in.
– Emergency food and senior boxes are available throughout the month, but we have switched to a pre-made box for both programs
– We are in need of volunteers who are willing to help pack boxes so contact us via Facebook and look for a schedule to be posted soon. Thank you for your understanding during this time.
Business Line : 406-665-2997
Website: Helping Hands Facebook Page
Community Food Bank
3391  I90 Frontage Road, Garryowen  59031
Business Line: 406-638-2821
Food Distribution Programs on Indian Reservations (FDPIR)
Human Resource Development Council (HRDC)
Provides a variety of healthy and nutritious food to enrolled tribal members on or near the Crow Reservation on a monthly basis.  Contact Agency for eligibility requirements and further details.
Warehouse is closed.  Food is prepackaged and drive thru service is available.  Please call.
Business Line: 406-665-2523
Website: hrdc7.org's food page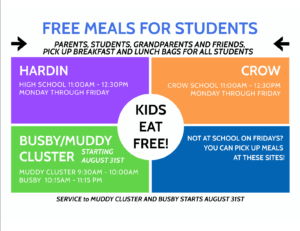 Stillwater
Project Hope of Stillwater County

Project Hope serves residents of Stillwater County with a food bank, thrift store and various outreach programs. MWF 9-3 pm, Sat 12-3. (406)322-8537.

Reed Point Evangelical Church

Local church can provide some meat from Pioneer Meats in Big Timber.
Address:  15 S Park St  Reed Point, Montana
Business Phone:  (406) 326-2263
Website: Facebook @RPEChurch
Email:  reedpointchurch@gmail.com

Absarokee Area Food Bank
Food Bank offering emergency food and monthly food boxes to those in need.  During this two week school shutdown, the food bank is providing food for the kids at the school along with their regular recipients.
Business Line : 406-328-4365
Address:  101 South Woodard Ave.
Sweet Grass
See listing in Stillwater
31 Pioneer Trail Big Timber, 59011
Email:  brian@pioneermeatsmt.com
Business Line: (406) 932-4555
Website: Montana Food Bank Website
Big Timber Community Food Bank
Mondays 12 PM-4 PM, and the first and last Fridays of the month 12 PM-4 PM
Business Line: (406) 932-4070
Website: Montana Food Bank Website
Communication

Your school may have the ability to help provide internet upon your request, if it is for the purpose of online/remote learning.
Addiction
People with an addiction are being impacted by COVID-19 in many ways, but the community is working on continuing crucial treatment.
United Way
Centers for Disease Control and Protection (CDC)
Child Care Aware
New COVID-19 Resource Guide (helps consumers survive financial fallout)
To ensure that everyone who needs support can take advantage of the help available to them, Consumer Action has compiled a free online guide to the various types of assistance being offered or, as with the "economic impact" payments, automatically provided. The guide is available in both English and Spanish.
Resources are broken down by category (Employment/workers, Food and meals, Housing, Financial services, etc.), with details about the type of aid, who is eligible, steps (if any) for receiving the assistance, and where to get more information.
Resources for Children with Special Needs
https://www.childbirthinjuries.com/birth-injury/  No two birth injuries are exactly alike, so it is important to make sure your child receives a proper diagnosis from a medical professional. After your child's birth injury has been diagnosed, your primary doctor will be able to provide a clearer outlook on your child's rehabilitation and recovery.
Ask Directory
---
The ASK Directory was developed by HRDC as a community resource tool in 1975. This resource tool was pre-Internet; as the super highway was not universally adopted until the mid to late 1980's. Still seen as a valuable resource amongst service providers and community members, the ASK directory has evolved to an online search engine with printable capabilities.
Submit new resource to ASK Directory
---
Search or browse for listings in the ASK Directory
A
A new Arrival, Inc
A.W.A.R.E Inc.
Adult Education Center
Adult Resource Alliance of Yellowstone County
Al Bedoo Shriners
Alpha House
Alzheimer's Association
American Cancer Society Eastern Field Office
American Heart Association/ American Stroke Association
American Lung Association of the Northern Rockies
American Red Cross
Angelas Piazza: Women's Drop-in Center
Area II Agency on Aging
Arthritis Foundation- Montana Branch of the Rocky Mountain Chapter
B
Beta Alternatives/ Misdemeanor Probation
Better Business Bureau
Big Brothers Big Sisters of Yellowstone County
Big Horn County Office of Public Assistance
Big Horn County Public Health Department
Big Sky Apartments
Big Sky Critical Incident Stress Management
Big Sky Economics Development Authority
Big Sky Hospice of Yellowstone City Co Health Dept.
Big Sky Senior Servies Inc./ Prevention of Elder Abuse
Bighorn Valley Health Center
Billings & low Vision Services
Billings Addiction Counseling LLC
Billings Area Chamber of Commerce /Convention & Visitors Bureau
Billings Area Indian Health Service
Billings City Attorney-Domestic Violence Unit
Billings Clinic
Billings Clinic Dialysis Center
Billings Clinic Healthline
District 7 Human Resources Development Council (HRDC) reserves all reproduction and publishing rights for the Community Resource Directory.
---
Disclaimer
Information displayed is independently provided by participating businesses and organizations.
While all attempts are made to ensure the accuracy of information listed, we are not responsible for the contents or reliability of any other websites to which we provide a link and do not necessarily endorse the views expressed within them.
Every effort is made to keep the ASK Directory up and running smoothly, however, HRDC takes no responsibility for, and will not be liable for, the directory being temporarily unavailable due to technical issues beyond our control.
This project is funded in whole or in part under a Contract with the Montana Department of Public Health and Human Services. The statements herein do not necessarily reflect the opinion of the Department.