Quick COVID-19 Survey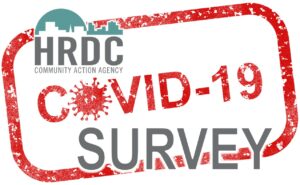 Going back to March, 2020 no one had anticipated the intensity and ultimate impact that COVID-19 would have on Montana and the region's families and communities. The economic, health, and social consequences of the pandemic have resulted in job and income losses, interrupted educations, pending evictions and foreclosures, illness and deaths, increased domestic violence, and so many other unforeseen negative outcomes.
For HRDC, it meant administering its core programs and emergency services remotely. All of the agency's programs continue to be operational, and a myriad of additional COVID-19 related emergency services are now offered as well. For HRDC and its community partners this has been a challenging time. As a Community Action Agency, we pledge to continue our efforts to serve the individuals, families, and communities of South Central Montana. To ensure that HRDC continues to provide the essential programs and services that individuals and families need, we ask you to take 5 minutes to complete this short COVID-19 survey. No names or personal information is required and complete anonymity is guaranteed. Your honest responses will in no way impact your current or future receipt of services. The results of this survey will help HRDC provide the programs that you really need.
Thank you for helping us better assist the people and communities of our region.
Denise Jordan, CEO
HRDC7, Billings, MT