Tax Assistance
Volunteer Income Tax Assistance (VITA)
---
The Volunteer Income Tax Assistance (VITA) program provides free income tax return preparation and electronic filing for individuals and families who make less than $54,000. Both state and federal tax returns are prepared by IRS trained and certified community volunteers.
If you feel qualified to file your own taxes, but don't have access to a computer, HRDC can help.  Our trained volunteers are available to answer your questions and assist you in logging into the United Way Portal: My Free Taxes.   The income limit for self-filing is $64,000.   Call (406) 247-4732 to check computer availability.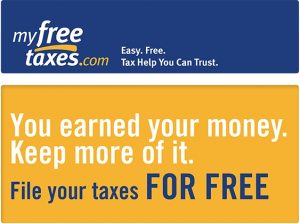 VITA Volunteers Needed!
For more information on how you can help, contact Mary Beth at mshay@hrdc7.org or click here to sign up today.
When is the VITA site open?
In-person tax assistance is available at HRDC in Billings and Hardin during the tax season (late January to mid-April). During the rest of the year, the site operates on a limited appointment-only basis. Call (406) 247-4760 to make an appointment from May 1, 2018 – December 15, 2018.
What do I need to bring?
You must bring the following items or you will not be able to complete your tax return at the VITA site.
The actual Social Security cards for taxpayer, spouse, and all dependents.
A valid picture ID for taxpayer and spouse.
All tax documents and forms issued for the tax year, including: Forms W-2, 1098, 1099, Healthcare Form 1095 A, B, or C, K-1, and dependent care amount spent with provider EIN.
Last year's tax return.
Check statement or blank check, savings account number.
I haven't filed a tax return for a few years. Can you do past-year taxes?
Yes. Our site is equipped to prepare tax returns for the past two tax seasons on an appointment-only basis. Please call (406) 247-4760 to make an appointment on Wednesdays between May and January 15.
What are my options for receiving my refund, and how soon can I expect it?
You can either have your refund direct deposited into a bank account or have it mailed to you as a check. Direct deposits typically arrive in 10-14 days while paper checks take an additional 1-2 weeks. For direct deposit, you must bring your routing number and account number to the tax site (typically, as a blank check). Please note: there will be a delay in receiving refunds until 2/27/18 if you claim the Earned Income Tax Credit.
What are my options if I owe money on my return?
The IRS website details your options for paying off your tax bill.
Can you prepare other (non-Montana) state tax returns?
Yes. We are able to prepare and file returns for any state in which you had income or residency during the tax year.
None of HRDC's VITA site times work with my schedule. Are there other sites that might help me?
Yes. Go to montanafreefile.org to find other free, local tax site locations and times. You can also go to MyFreeTaxes.com/hrdc7 to file your taxes online for free.
I made more than $54,000 last year (or otherwise don't meet the site guidelines). Can HRDC still help me?
Taxpayers whose tax situation falls outside VITA guidelines will be able to use site resources to prepare and file their own tax return electronically, using the IRS' free online services. VITA volunteers will be available to provide limited filing assistance and to direct you to appropriate tax resources.
What kind of returns cannot be prepared at a VITA site?
The following list contains returns that are NOT able to be prepared at a VITA site because they are out of our scope:
Farm income
Rental income
Business income with more than $10,000 in expenses or a net loss for the year, or had an inventory, employees, depreciation, or business use of home expenses, rental/lease of machinery expenses
Deduction of loss due to casualty or theft
Adoption expenses credit
Moving expenses deduction
Alternative fuel/plug-in vehicle credit
VITA Locations and Times
HRDC Billings
7 N 31st St (lower level)
Walk-in or by appointment.
To schedule an appointment, call: (406) 247-4710
January 31 – April 14, 2018
Wednesdays, 12:00 pm – 7:00 pm (at HRDC, 7 N 31st St)
Thursdays, 12:00 pm – 7:00 pm (at HRDC, 7 N 31st St)
Fridays, 12:00 pm – 5:00 pm (at HRDC, 7 N 31st St)
Saturdays, 11:30 am – 4:30 pm (at MSU-B Student Union Building February-April, at HRDC in March)
HRDC Hardin
501 N Center Ave
To schedule an appointment, call: (406) 655-3500
February 6 – April 3, 2018
Tuesdays, 9:00 am – 11:00 am
For more information
Call (406) 247-4760 or Email info@hrdc7.org
The VITA program is sponsored by the Internal Revenue Service and supported by local organizations including Montana Credit Unions for Community Development, Montana State University Billings, and HRDC.

IRS Taxpayer Advocate Service (TAS) & IRS Appeals
---
The IRS Taxpayer Advocate Service (TAS) and IRS Appeals gives taxpayers a voice at the IRS. At this virtual site, taxpayers speak face-to-face with a live IRS representative via a secure internet connection and a two-way video feed. Free help is provided to guide taxpayers through the often-confusing process of resolving tax problems and finding a solution.
Who is eligible?
The site is open to anyone with an unresolved tax issues.
What do I need to bring?
Please bring your Social Security Card, photo ID, and any documents that relate to your tax issue.
When is the site open?
The site is open to walk-ins every Monday, Tuesday, Thursday, and Friday 8:00 am – 4:00 pm, excluding federal holidays and other agency closures.
The Appeals service is available by appointment only on Wednesdays from 8:00 am – 4:30 pm Contact the IRS to request a hearing.
Is my tax problem big enough to qualify for help?
There is no problem too small or big – if you have been unable to solve the problem on your own, then you should take advantage of these services.
The Taxpayer Advocate Service is here to help if:
Your problem with the IRS is causing financial difficulties for you, your family, or your business.
You face (or your business is facing) an immediate threat of adverse action.
You have tried repeatedly to contact the IRS, but no one has responded, or the IRS has not responded by the date promised.
An IRS Appeals hearing is the next step to take to resolve tax controversies. You should request an Appeals hearing if:
You need help deciding if the IRS made an incorrect decision due to misinterpreting the law,
You believe the IRS is misapplying the law due to a misunderstanding of the facts, or
You believe the IRS is taking inappropriate collection action or you do not agree with Collection's denial of your offer in compromise.
Is this service free?
Yes. This is a free service to the public.
I need to file my tax return – can this service help me do that?
The Taxpayer Advocate Service is here to solve tax problems, not file tax returns. If you need to file a current or past year tax return or amend a tax return, please contact our VITA (Volunteer Income Tax Assistance) site located at District 7 HRDC – which offers free tax preparation to taxpayers. Click here for more information.
I am unable to come in and use this service. Is there another way I can receive help?
Yes – there are Taxpayer Advocates in every state. You can call the Taxpayer Advocate Service toll-free at 1-877-777-4778 to find one near you or fill out IRS Form 911, Request for Taxpayer Advocate Service Assistance, and fax or mail it to the local Montana office at 10 West 15th Street, Suite 2319, Helena, MT 59626 (Phone: (406) 444-8668, Fax: 855-829-6046). You may also visit the Taxpayer Advocate website.
For more information
Call (406) 247-4710 or Email info@hrdc7.org